Last year I had the opportunity to attend Daytona Bike Week for a few days as a new contractor for Yamaha Motorcycles, helping with the demo rides. This led to other opportunities and this year I returned to Daytona for the entire week. The demo rides are opportunities for members of the public to take a test ride on a new Yamaha or Star motorcycle. For those unfamiliar with Yamaha, the Star line are the cruisers; from the new 950cc Bolt all the way to the 1900cc Stratoliner Deluxe they provide a fun relaxed ride which is perfect for Daytona.
Because I was on a schedule I decided to load my bike on the Kendon and trailer it to my friend Pete's place just south of Charlotte, NC. I have a new GSA which I kept in the garage all winter to keep it salt free, then wished for an enclosed trailer as I towed it south (and back home) in a snow storm.
Liberty CRD (Diesel) towing GSA on Kendon fold up trailer
With a need to be in Daytona by Friday afternoon I planned a trip to arrive at Pete's place Thursday. We had a plan for some back roads to Daytona as my GS had a total of 7 miles when I loaded it on the trailer. The last thing I wanted to do was break it in by going down the interstate.
We departed early Friday morning and arrived in Daytona at 4 that afternoon.
The Yamaha set up at the track. Demo bikes are upper left.






We jumped right in Saturday morning and were greeted by a line of enthusiastic riders waiting for registration to open. Riders can do two rides per day but they can only sign up for one bike at a time. They are also issued a wrist band so they can come back every day for two rides and not have to fill out all the paperwork each time they want to ride. At a big event we'll run two lines, one of sportbikes, FJR and Super Tenere and the other line will be all cruisers. We'll have five riders with one rotating into the tent for the day to assist with sign up and whatever else comes along.
Given a choice I'll take the sportbikes and to start my week I got lucky and was assigned to the sportbike line with a new (old) guy named Mike. Mike is a retired motor cop from Milwaukee and spent the last 16 or so years doing the same thing for Harley and Buell. Choice of mount aside He's a great guy. Retired cops are great to work with, especially when you consider the primary focus of our job is to take 10 strangers who have never ridden the bike they're on for a fun, safe group ride in Daytona traffic 8 times a day.
We put 12 bikes out in the line with all 12 on the sign up sheet. The ride is full when we get to 10 signed up, the demo riders take what the customers do not select with the lead rider choosing first. This way the lead rider doesn't end up on an R6. Not that we don't like the R6 but it's a bit cramped and the visibility through the mirrors isn't the best for leading a group. Competitive riders love the R6 and it dominated the 200; taking the top six spots. When I follow a ride on a R6 I always come back grinning, if not in need of a chiropractor. 25, I'm not.
My favorite bikes to lead on are the Super Tenere, the FZ1 or the FZ8. The Tenere and the new FJR are the popular new bikes and get booked for the day early, however on this fine Saturday morning it was the FZ1 that customers were overlooking; making it a lucky day for me.
Slightly de-tuned R1 race motor, 12,000 rpm redline and 487lbs wet. Oh my.
The FZ1 is a gentleman's version of the legendary R1, Yamaha's Superbike. The seating position is just relaxed enough with the perfect amount of weight on the bars. It's hyper quick and a ton of fun. The combination of power, handling and a great seating position keeps me coming back to it as a great bike to lead the demos, plus I can see quite well from the relatively high mounted mirrors.
The other highlight of Saturday was the unveiling of the Bolt, the newest addition to the Star line. It's a 950 twin in a stressed frame done in a bit of a retro / bobber theme. This was a pretty secret project, we knew a new bike was coming but had no idea what it was until a few hours before the unveiling. It was quite a time, the Yamaha guys did a great job with the intro and some dancing girls from Miami Beach led everyone in Daytona Bike Week's largest ever Harlem Shake. Totally Wow.
Sunday I was on the cruiser line, after all somewhere it's been said Sunday is a day of rest. I was teamed up with "Big Rick". Big Rick has been doing this since bikes were powered by wood. A former Marine, current husband and doting grandfather, Rick is the real deal. He's got a ton of riding experience including a bunch of Iron Butt Rallies and I love riding with him. We're lucky if we can make the radio batteries last to lunch.
Monday I was on Tent duty which is much harder than riding. You'd think it was easy but round about mid-afternoon it became apparent that looking busy is harder than being busy.
When we returned to the hotel Monday there was a Suzuki Boulevard (650 thumper) in a non-specific state of dis-assembly under the portico. One of our truck drivers suggested that we stop and help the owner out with her issue which involved installing a stereo she purchased at a vendor earlier that afternoon. While the vendor wasn't exactly lying when he said installation would take 15 minutes he didn't know his customer had never used a socket wrench and it would take her 45 minutes to remove the seat. I asked her how she planned on connecting the wires and she mumbled something about having some scotch tape. We had to help.
How many guys does it take to install a stereo on a pretty girl's bike?




While I was out getting some butt connectors Tammy had someone from the hotel get us some beer as a way to say thanks. 6 cases of Yuengling was more than generous!
Tuesday... Tuesday I must have rode with Pete but I don't remember a thing about it. That's because Pete and I ride together quite a bit and we work very well together, so well the day went smoothly enough I don't remember a minute of it. I'm not completely sure Monday's bell cart of Yuengling doesn't have anything to do with this.
Wednesday it rained. Cold too. We don't do demos in the rain.
Thursday morning I got some bad news. My father passed away. This was not unexpected, I'd been there when we decided it was time for hospice but after a long battle with Parkinson's disease it was his time. My silver lining was I was busy working in a great environment with a great team and a few close friends so it was as good a day as one might expect. My boss offered me the day off but the last thing I wanted to do was mope in a hotel. As a compromise I took a V Star 1300 for a ride.
Before we can put a demo bike in the hands of a customer it needs to have 150 miles. As this was our first major event of the year we had a few bikes that needed mileage. Starting with the 1300 I rode most of the day, finishing up on a 950T. I can't lie, I liked the big motor better. In fact, my favorite Star motorcycle is the Stratoliner S or Deluxe which as a massive 1900 cc V Twin. I laugh every time we refer to a 950 as a "starter" bike as my first big bike was a 650 back in 1978.
The Bolt, 950 cc, low seat height and classic looks. A "starter" bike I can't wait to ride


Friday I was back in the sportbike line working with Catlin. While Thursday was super cold, Friday was only somewhat sub-tropic. The demo loop is just about 13 miles, we did it 8 times for a grand total of 104 miles of incident free riding.
Friday evening Pete and I took a ride up to Jacksonville for the Iron Butt Association's Annual "Pizza Party." We had a Super Tenere and 2013 FJR that needed their minimum mileage requirement. Originally we were going to switch but after riding the FJR north I begged, pleaded and ultimately would not give up the keys to the FJR.
For 2013 the FJR has larger forks and updated suspension components up front. This is a dramatic improvement of what was already a great handling motorcycle. Also changed are the electronics and instrumentation. Yamaha's new Chip Controlled Throttle (YCC-T) delivers outstanding throttle response. With the ability to select touring or sport mode and the YCC-T the FJR can be a pussy cat in Daytona traffic or a lion charging up I-95. I could have skipped Jacksonville and gone on to Atlanta with no problem. One never knows when a FJR may show up in my garage but I'd be happy to make room for one next week.
Saturday I was back on tent duty for what was scheduled as a half day. Traffic builds in anticipation of the 200 later in the day. There comes a point when traffic is too heavy for us to ride and the boss adjusts the schedule accordingly. Fortunately for me we had a Stratoliner Deluxe with zero miles so I went for a nice ride into the swamps to break it in.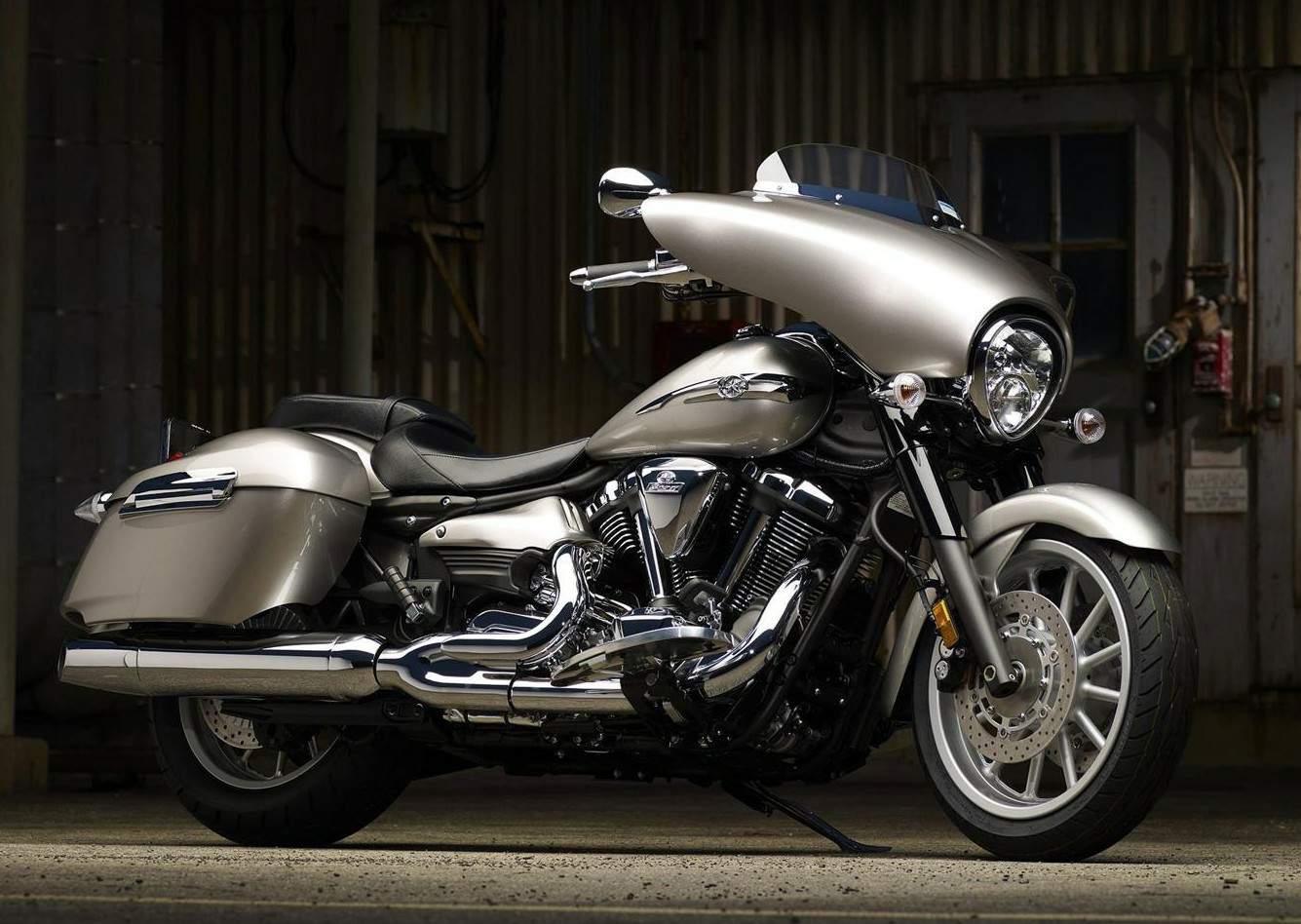 Give me some George Thorogood on the stereo and I'm outta here.
Saturday afternoon we were told in no uncertain terms that we needed to head to the Yamaha suite for lunch and the 200. Not one to disobey orders I ended my week with one more hamburger while chatting with some great people. After lunch there were three bikes that needed mileage but I'd had my fun so Pete, Rick and Mike did a tour of the swamps while I retreated to the hotel.
Sunday Pete and I blasted north, now that work was done I wanted to get home and give my family a hug. We got to his house in the early afternoon and I was loaded and moving in under 15 minutes. Once again I was very happy to be in the Jeep as this is what I encountered Monday morning in Maryland.
I'll be doing demos with Yamaha all year. For our current schedule of events visit the Star Motorcycles website or
click here
.